Custom Armoured Vehicle in UAE
We provide protection by armoring with composite material. Our state-of-the-art facilities assure high volume production with consistently superior quality.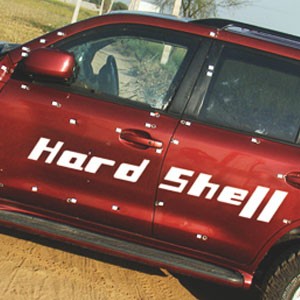 Lightweight Transparent Bullet Resistant Glass: Only the top Quality ballistic glass used custom features included to maintain ballistic protection at a higher temperature.
Ballistic Steel:
Wide range of Armour available tested in accordance with National Institute Justice Standards.
Floor Protection:
Flexible multi-layered ballistic Kevlar is sealed to the entire floor, roof body of the vehicle. Designed to absorb bomb and ballistic fragmentation.
Run Flat Tyre System:
Run-flat device in all tyres. These tyres continue to run even after a is punctured or burst. Up to 60 miles at 60mph. after a bullet hit.
Suspension, Shocks, and Brakes:
Front shocks replaced with custom-made coil over fully tested in off-road conditions. Smoothes out the ride over all terrain and provides stability to offset increased load due to armor. Rear Brake shoes replaced with high-performance material for improved braking and increased safety.
Dual Ram Bumpers: Concealed behind both the front and the rear bumpers, this option
Each vehicle to ram their way out of a dangerous situation without causing inoperable damage.
Specifications & Options:
Level B4, B5, B6 or B7 Protection

Bomb Blast Protection Floors

Ballistic Glass

Protected Batteries

Upgraded Suspension
Upgraded Brakes

Run Flat Wheels

Ram Bumpers

Optional Gun Ports

Strobes and Siren
Protected Passenger Cell
The passenger cabin is protected according to protection level specified including all sidewalls, doors, pillars, roof, floor, firewall, and rear bulkhead
Transparent Armouring Areas

Opaque Armouring Areas
The passenger cell is protected using ballistic steel and is applied to the following areas
RH and LH sidewalls

Side Doors

A, B, C and D pillars

Roof

Front bulkhead (Engine firewall)

Rear bulkhead
Bullet resistant glass adequate to defeat the specified threat level (with anti-spall liner), is applied to the following glazed areas.
Windscreen

Front doors

Rear

passenger doors

Quarter Panels

Rear Bulkhead
Design and Engineering
Hard Shell employs the latest technology and design in armoring the vehicles in order to provide the highest level of protection in support of the light armored vehicle. We constantly strive to create the most compatible design for our armored vehicles. Our armored vehicles incorporate the latest armor composite technologies available. We take into account floor protection, suspension, and brakes, as well as climate control, run-flat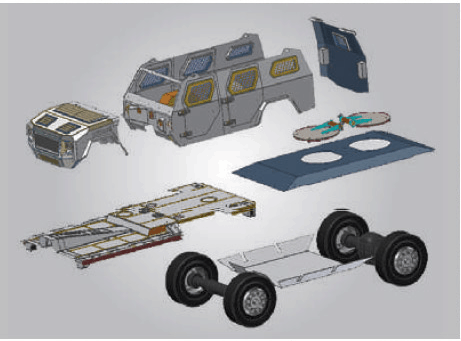 Our armored vehicles incorporate the latest armor composite technologies available. We take into account floor protection, suspension and brakes, as well as climate control, run-flat tyres, communications and the survivability of necessary components, such as the fuel tank, battery, and radiator.
The armored glass used has top quality ballistic capabilities and used with custom features in order to maintain ballistic performance at high temperature. In brief, it has very high-quality optical characteristics and can be tinted in manufacturing if required.
Manufacturing
All Hard Shell protected vehicles are manufactured in strict compliance to our Quality Standard and follow strict process controls to ensure high product quality, materials traceability, and product repeatability. The Hard Shell resembles a normal civilian vehicle. It is low profile – meaning that the vehicle is nearly visually identical to a standard vehicle. Therefore unwanted attention while traveling is avoided.
Fuel System Protection:
Fuel tanks are protected from all sides with ballistic steel.
Run Flat Inserts:
All 5 wheels (4 driven and 1 spare) are supplied with a FINABEL approved run-flat insert band providing the ability to travel a total distance of 50Km.
Suspension:
In order to ensure the vehicle handles and reacts in a safe a predictable manner all Hard Shell have a complete upgrade to the suspension system. The revised system includes Coil Springs and Shock Absorbers. These components are specially developed after much R & D.
Brake System: The braking system has been modified to ensure the fully laden vehicle reacts as close as possible to the OEM Vehicles. Hard Shell has a slotted disc design which allows for better braking performance and to dissipate the heat created due to braking.
Door Hinges: All original door hinges are replaced with our in-house designed and manufactured heavy-duty door hinges. The vehicle body structure is reinforced at the door hinge locations. The heavy-duty hinges and the body upgrades ensure the vehicle can take the additional weight of the fully armored doors.
Standard Equipment
OEM Aircondition system

Heavy duty suspension

Original Toyota Toolkit

Audio System

Fire Extinguisher
All 5 tires with run-flat system

Heavy-duty hinges for all doors

Heavy Duty Jacks

First Aid kit

Interior door trim panels to replicate OE condition